Tear-Aid, the indispensable repair patch for
outdoor and indoor usage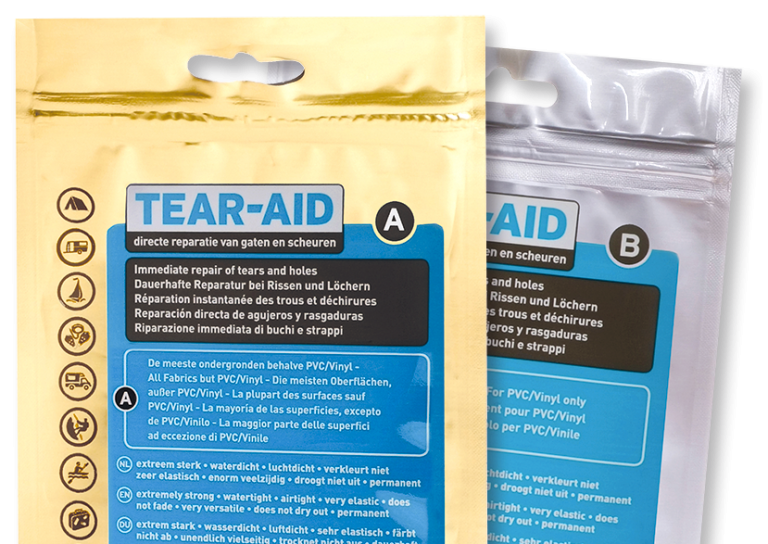 02 April 2020

…

|

…

Two-M has all products in stock. Orders are shipped within 24 hours.
Tear-Aid is a unique transparent repair patch for repairing tears and holes in practically all materials.Tear-Aid is extremely strong and very elastic. Tear-Aid is no temporarily solution, it is a permanent repair patch which deserves a place in both your outdoor and indoor equipment.
Tear-Aid repares: tent cover, canvas, rubber (inflatable-) boats, umbrellas, raincoats, jackets and bags. But also products like aluminium, stainless steel, fiberglass and more. Tear-Aid is available in type A en type B. Both types have the same unique qualities but they can be used on different materials.
• extremely strong
• watertight
• airtight
• very elastic
• does not fade
• very versatile
• does not dry out
• permanent

Tear-Aid can be used on the following materials:
(always clean material with alcohol patch before applying Tear-Aid)
Airtex / Acrylate
Auto Convertible Tops
Awings & RV Awnings
Backpacks
Banners / Ballistic Nylon
Bimini tops
Bladders
Boots / Butyl
Camping Repairs
Canvas Sails / Canopies
Cordura / Cotton
Dacron / Domes
Fiberglass / Flexothane
Fishing Waders
Gore-Tex / Glass
Horse Blankets / Rugs
Hydra-Tex
Hypalon / Icarex
Inflatables Furniture & Toys
Kites / Coopers
Leather / Lycra / Mylar
Monofilm / Nitrilon
Neoprene / Nylon
Party Tents PE
Plastic/Sails/Toys/Water Toys
Polyamide / Polyester
Polyethene / Polyurethane
Pond Foils
EPDM/PE/HDPE/LDPE/FPP
Portable Shelters
Protected Clothing
Rain Coats / Gear / Rubber
Scuba Wetsuits & Drysuits
Seats
Ski Suits / Sleeping Bags
Sunbrella / Surfboards
Tarps / Tents
Trailer Windows
Tubes / Umbrella
Zodiacs
Advertising Balloons
Air Mattresses Vinyl
Aqua Bubbles
Banners Vinyl
Belly Boats PVC
Bicycle/Motorbike/Scooter Seats
Bisonyl
Boat Covers, Tops & Seats
Bottles / Tanks / Containers
Camping Repairs
Convertible Windows
Dashboards
Fenders
Floaters
Infaltable Ads
Inflatable Boats
Jump Cushions
Life Jackets
Mud Skirt
Party Tents PVC
Portable Shelters PVC
Protected Clothing
PVC Hoses
PVC Pond Foil
PVC Tubes
PVC Water Toys
Sails
Sporting Equipment
Storage Tarps PVC
Sunbrella PVC
Swimming Pools
Tarps PVC
Tent / Boat Windows
Truck Covers & Tarps
Vinyl Windows
Waterbeds
Watertoys Vinyl
Tear-Aid, the exceptionally strong repair patch!